Valentines That Love YOU
Satisfy your sweet-loving heart – and your sweetheart – with Valentines that love you back! These treats bring nutrients to your heart, muscles, skin and lungs, even your very cells. Because you create them from all-natural ingredients, you get no inflammatory lash-back from refined sugars, artificial colors & flavors, and processed oils. No recipe necessary! Just mix and share. After all, real food = romance!
Strawberry Hearts
Dip fresh strawberries in melted dark chocolate (at least 70% cacao), then sprinkle with chopped nuts or unsweetened coconut flakes. Want to send your Valentine some extra love? Instead of dipping the strawberries, draw on them, like Brandi at The Vegan 8, using an icing bag filled with melted chocolate.
Valentine Love Pudding
You know the chia pudding that was popular a couple of years back? Why not adapt it for February 14th? Go ahead and mix your full-fat can of coconut milk with a couple of tablespoons of chia, but just before you add a pinch of salt and set it in the fridge to set up, stir in just enough juice concentrate to sweeten it. Try pomegranate, cherry, or cranberry for a beautiful pink color. Then when you are ready to serve it, top it with nuts and fruit, such as goji berries, pitaya, raspberries or cherries.
Cupid Chocolates
With just 3 ingredients, you can spread the love! Start with an all-natural peanut-butter, such as Adam's, and mix in just enough pure maple syrup for a semi-sweet taste. Form into small balls (or even hearts if you like), and chill while you melt some dark chocolate (70% cacao or more). Dip the balls in the melted chocolate and set them in paper candy cups.  Before the chocolate sets, sprinkle with red sugar crystals.
A Valentine Mousse to Love
What could be more romantic than a creamy pink mousse, shared by candlelight? Plus, it whips up so quickly, you can spend the extra time getting ready for the big night. Simply combine equal parts heavy cream and softened cream cheese. Add some pureed raspberries to taste and spoon into dessert cups. Chill. Just before serving, top with fresh raspberries and a dolop of whipped cream.
Heart's Delight
Love chocolate and fruit together? Here's a filled valentine that loves you because there's no added sugar. You need freeze-dried raspberries or strawberries and coconut butter, plus some melted dark chocolate (70% cacao or more). Start by melting the coconut butter in a double boiler. Meanwhile, using a blender or food processor, powder the berries by pulsing the motor. Add the powder to the coconut butter at a ratio of about 4 parts coconut butter to 1 part berry powder. Pour into candy molds and chill to set. When candies are firm, dip in melted chocolate and leave in a cool place to set.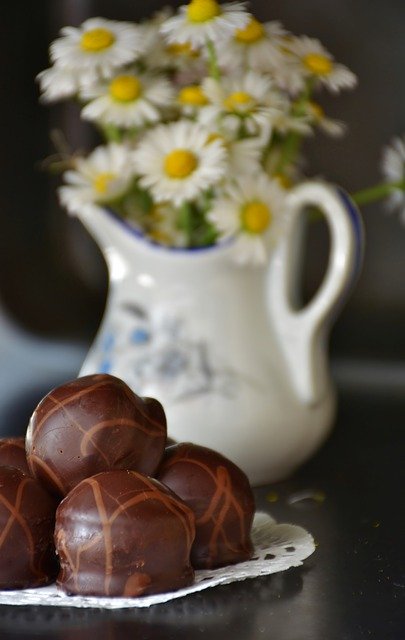 Lover's Pie
Give your Valentine some love with a light fresh fruit pie. Blend any kind of nuts until they release their oil and begin to stick together. Press them firmly into the bottom of a pie pan. Next, empty about of pound of fresh or frozen berries into a saucepan along with a half of a cup of water. Bring to a simmer, and cook until the berries break down. Sprinkle in a couple of tablespoons of gelatin, and stir until the gelatin dissolves. Pour over the nut crust and refrigerate until set. Top with more berries.
What you eat matters because YOU matter! If you want to live and give your best, you must eat your best! To be someone's Sweetheart, cherish your own sweet heart by eating only ingredients that love your body back. If you're confused about the connection between your diet and your symptoms, check out what Functional Nutrition can do for you.