Thanksgiving Unprocessed
The Thanksgiving dilemma is that we want to FEAST, but we don't want the food coma that follows!When you make your Thanksgiving unprocessed, you will actually eat less and be more satisfied! Switch out manufactured foods for whole foods that don't come with a nutrition label to have a truly pleasurable meal that doesn't leave you feeling sluggish and sick!
Non-boxed Stuffing
It's time to think outside the box – the stuffing box! In this wild rice stuffing, say goodbye to stale bread & long ingredient lists. Say hello to tender wild rice, crispy bacon, mushrooms, herbs, nuts, & cranberries.
1 c. wild rice blend
2 c. chicken bone broth
1 bay leaf
1 Tb. butter
6 slices bacon, fried and crumbled
1 onion, diced
8  crimini mushrooms, sliced
4 cloves garlic, minced
3 stalks celery, finely chopped
½ c. fresh cranberries
1 tsp. dried thyme
1 Tb. fresh snipped sage
1/3 cup chopped pecans or walnuts
Salt & pepper to taste
Bring the bone broth to a simmer. Add the wild rice, bay leaf, and butter. Then cover, reduce heat to low, and cook until all liquid is absorbed, about 40 minutes. Meanwhile, saute the onions, mushrooms, garlic and celery in a little bit of the grease left from cooking the bacon. When vegetables are soft, stir in cranberries and cook just until they pop. Mix in the herbs.
Combine the rice, bacon, sauteed vegetables and nuts. Season to taste. Voila! A classic recipe for Thanksgiving, unprocessed and original!
Green Beans with  Mushroom Gravy
Forget the canned soup for this green bean casserole that is loaded with flavor! Portobello mushrooms and balsamic vinegar are sauteed in butter and thyme, then topped with baked leeks for a bit of crunch in this amazing unprocessed Thanksgiving comfort food!
1 leeks, thinly sliced (white part only)
1/2 Tb. avocado oil
1/8 tsp. each salt and paprika
24 oz.  frozen green beans
1 small yellow onion, diced
2 1/2 c. sliced portabello mushrooms
3 minced cloves garlic
2 Tb. butter
1 tsp. dried thyme
1/2 tsp salt
2 Tb. balsamic vinegar
¾ c bone broth
24 oz. (2 pkg.) frozen green beans
Toss the leeks with avocado oil, paprika and salt. Microwave in a covered bowl for 2 minutes. Transfer to a baking sheet lined with parchment paper, spreading them out into a single layer. Place 6″ beneath the oven element and cook on low broil for 4-5 minutes until golden.
Saute the onion, mushrooms, and garlic in butter and thyme until tender. Add salt, vinegar, and broth. Simmer 10 minutes. Blend until smooth.
Steam the green beans according to package directions. Fold beans into mushroom gravy. Garnish with leeks.
Traditional Candied Yams
Dates, pure maple syrup and cinnamon lend a decadent sweetness to these classy candied yams– without artificial ingredients — to make an unforgettable comfort food for your Thanksgiving Unprocessed.
6 c. yams, peeled and cubed (2-3 yams)
4 Tb. butter, melted
1 c. chopped pitted dates
1/2 c. boiling water
4 Tb. pure maple syrup
1 tsp. cinnamon
¼ c. unsweetened coconut flakes
2 Tb. butter, melted
Toss yams with 4 Tb. butter and layer in a 9×13 baking pan. Roast at 425° for 25 minutes.
While yams are roasting, pour boiling water over dates to soften. After 5 minutes, strain the dates. Combine the dates, maple syrup, cinnamon, coconut flakes, and 2 Tb. butter. Toss with roasted yams and bake at 350 for 15-20 more minutes.
Homemade "Cornbread"
Pass up the frozen dough and gluten bloat when you make this absolutely scrumptious corn bread from millet, buttermilk, and sweet potatoes. No sugar needed!
2 Tb. coconut oil
1 c. millet flour
1/4 t. baking soda
1 1/2 t. baking powder
1/4 t. sea salt
1 c. buttermilk
1/2 c. sweet potato, cooked and mashed
1 egg
Melt the coconut oil in a 10″ oven-proof skillet.
Combine the flour, baking powder, baking soda and salt in a mixing bowl. In a separate bowl, whisk together the buttermilk, mashed potato, and egg. Add the potato mixture to the flour mixture and stir just until combine
Spoon into  skillet and bake in a preheated 425° oven for 20 minutes.
Fresh Fruit Salad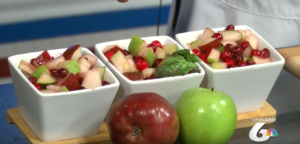 In this rosy cranberry fruit salad, there's no need for imitation whipped topping! The unprocessed burst of flavor comes from honey, warm spices, and orange juice, perfect for your Thanksgiving meal!
5 whole cloves
3-4 allspice berries
1 stick cinnamon
½ c. honey
½ c. orange juice
1 pkg. fresh cranberries
2 red pears, diced
2 green apples, cubed
Put spices in the center of a coffee filter. Bring the edges together like a bag to enclose the spices. Secure with a wire twist tie or a piece of string. Put the honey and orange juice in a saucepan. Add spice bag. Simmer over medium heat until reduced by half.
Remove and discard the spice bag. Add the cranberries to the pot and cook until berries are softened. Remove from heat. Cool, then add pears and apples.
Unprocessed Thanksgiving Pie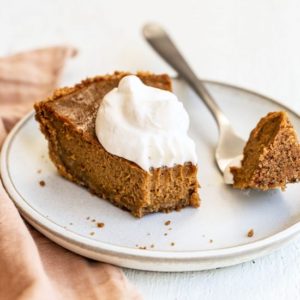 You'll love this mouthwatering no-bake pumpkin pie! The yummy cookie crust contains only unsweetened coconut flakes and dates. So there are no trans-fats or processed flours. And the delicious pumpkin filling is made without canned milk!
Cookie Crust:
2 c. unsweetened coconut flakes
1 ½ c. pitted medjool dates, roughly chopped
Process the coconut flakes and dates until the mixture resembles brown sugar. Press mixture firmly into a pie tin. If you desire a crisper crust, poke holes in it with a fork and bake at 350° for 12-15 minutes. Cool and fill.
Pumpkin filling:
1 Tb. gelatin
3 Tb. water, divided
2 c. cooked pumpkin (may be fresh, frozen or canned)
2 ½ tsp. pumpkin pie spice
½ c. butter, softened
1/3 c. honey
Soften the gelatin in 1 Tb. cold water. Add 2 Tb. boiling water and whisk until frothy. Blend the gelatin mixture, pumpkin, spices, butter, and honey. Pour into crust & refrigerate.
Your Thanksgiving Unprocessed
When you eat real food, you are less likely to overeat. But if you do happen to gorge yourself on all this appetizing, nourishing food, your best bet is to take a walk instead of hit the couch.
If you feel bloated or have heartburn, try these natural remedies instead of reaching for Tums or Zantac:
Sip peppermint or chamomile tea.
Nibble a razor-thin slice of fresh ginger root.
Chew some roasted fennel seeds.
Stretch into some yoga poses for digestion, such as maricasana or pavanamuktasana.