Teal Halloween
I'm ditching orange and going teal this Halloween! The Teal Pumpkin Project is a movement to create a safer Halloween for all trick-or-treaters by avoiding treats that contain food allergens. Since 1 in 13 kids has food allergies, we need more houses where they can get allergy-free treats. You let kids know your house is allergy-safe when you put a teal pumpkin on your doorstep.
I'm making my Halloween teal by purchasing non-food treats to give to trick-or-treaters. Glow sticks, bouncy balls, stickers, and spooky toys are always a hit in our neighborhood! You can add your house to the Teal Pumpkin Project map here.
I'm also making sure that for parties, I offer treats that don't contain common allergens, such as wheat, soy, eggs, corn, nuts, or fish. Here are some ideas you can use:
Apricot Pumpkins and Banana Ghosts
All you need is a little melted chocolate and some fruit! Using a toothpick, drop dots of melted chocolate onto fresh, frozen or dried apricots and onto halved, peeled bananas to make faces of jack-o-lanterns and ghouls.
Monster Mouths
You will need:
red apple slices
pumpkin seeds
sliced strawberries
toothpicks
Each apple slice will become a top or bottom jaw. Press ends of pumpkins seeds into fleshly part of apple slices to make teeth. Join two apple slices together with toothpicks, keeping the red skin facing out to resemble lips. Lay a strawberry slice over the pumpkin seeds on the bottom apple to look like a tongue.
Black Cat Fudge
This Teal Halloween-friendly recipe is chock-full of anti-inflammatory ingredients to help offset high-sugar treats that are almost inevitable for trick-or-treaters. Combine the following:
2 avocados, mashed
1/4 c. each melted virgin coconut oil, and melted cocoa butter
1 tsp. each vanilla, cinnamon, and salt
1/4 c. each carob powder and honey
2 Tb. coconut cream, optional (use if you want a milkier taste. Omit for that dark chocolate taste)
Mix until smooth, press into an oiled loaf pan. Freeze, then cut into squares. Alternately, you could press onto a parchment-lined cookie sheet. Then, after freezing, you can use Halloween-themed cookie cutters to cut shapes of bats, cats, and spiders.
Teal Halloween Caramel Apples
These caramel apples use no butter or milk to make them allergy-safe. Also, they use no refined sugar or corn syrup, making them healthier for all children.
14 oz. can full-fat coconut milk
1/2 cup maple syrup
2 tsp vanilla extract
1 tbsp coconut oil
2  granny smith apples
tongue depressors or skewers, stuck into the apples for handles
Simmer coconut milk and maple syrup over low heat for 30 minutes or more, stirring frequently, until very thick and light brown-colored . Remove from heat and stir in oil and vanilla. Pour into two round cake pans coated with cooking spray. Refrigerate until set. Using a spatula, release the caramel from each pan and lay it on a piece of parchment or wax paper. Set an apple in the center of each caramel disc. Fold the caramel up and around the apple, pressing firmly so that the caramel stays in place. Keep refrigerated.
Witches Fingers
Hauntingly good! You won't miss the gluten, eggs, nuts, or the sugar, either!
1/2 cup coconut oil, softened
1/4 cup molasses
1/2 cup honey, warmed
2 teaspoons pure vanilla extract
1 cup coconut flour
1 teaspoons each ginger powder & cinnamon
1/2 teaspoon each sea salt & baking soda
6 Tb. water
2 Tb. unflavored gelatin
Pumpkin seeds
Preheat the oven to 350. In a large bowl whisk together the coconut oil, honey, molasses, and vanilla extract. In a small bowl, measure 2 Tb. of cold water. Sprinkle the gelatin into the water. When the gelatin has absorbed all the water, heat the remaining 4 Tb. of water to boiling and pour over the gelatin mixture. Stir well until all of gelatin has dissolved. Whisk the gelatin mixture into the wet ingredients.
In another small bowl, mix the coconut flour, spices, salt, and baking soda. Add these dry ingredients to your large bowl, mixing until creamy. Shape dough into finger-length "snakes." Score knuckle lines with a knife. Press a pumpkin seed "fingernail" onto each finger. Set fingers on a parchment-lined cookie sheet.
Bake for 17-20 minutes, until edges are browned and cookies are firm to the touch.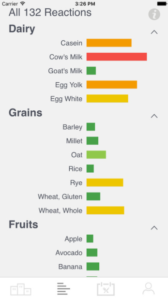 Test for Food Sensitivities
The whole idea of a Teal Halloween may seem foreign to you if you do not have known food allergies in your family. However, the chance of having food sensitivities is much higher than the probability of having food allergies. What's the difference?
Food allergies
Manifest within seconds of ingestion.
Impact skin, airways and eyes with classical allergy symptoms (hives, restricted throat, mucous, watery eyes).
Require only a few molecules of the allergen to trigger a response.
On the other hand, food sensitivities
May take up to 3 days to manifest
Can impact any system of the body, causing joint pain, mood changes, headaches, digestive distress, and many other symptoms
Are dose dependent, meaning they may not trigger a response at all unless a certain threshold is passed. So, you may be able to eat a tablespoon, but not a cup.
You may order a home blood test kit that detects your response to 132 different foods. Results are confidential and are color-coded to give you a range of tolerance. For example, you may have no response, indicated by a green bar. You may have a minor or moderate response, indicated by a yellow or orange bar. Finally, you may have a dramatic response, indicated by a red bar.
Let's make Halloween safe for everyone by identifying and avoiding food triggers.