Breakfasts For Busy Mornings
Need help eating right on busy mornings? Certainly, you need breakfasts that are quick and easy! But you need them to be nutrient-dense, too! Fighting inflammation requires a host of vitamins, minerals, amino acids, essential fatty acids, and phytochemicals! So, You can't just buy toaster pastries and be optimally well!
Do Your Prep on the Weekend
One way to conquer the busy morning frenzy is to assemble and freeze ingredients ahead of time. For example, Pizza Burritos made with zucchini and mushrooms provide lots of potassium and B vitamins.
Pizza Burritos
1 zucchini, grated
6 mushrooms, chopped
1/2 lb. ground Italian sausage
1 tsp. Italian seasoning
6 eggs, beaten
salt & pepper
3/4 c. grated mozzarella cheese
Tortillas
In a large skillet over medium heat, brown the meat with the zucchini, mushrooms and Italian seasoning. When the mushrooms are softened and the meat is evenly browned, pour the beaten eggs over the sausage mixture. Season with salt & pepper. Then, cover, reduce heat to medium low, and cook until set. Using a spatula, transfer onto tortillas. Sprinkle with cheese, roll, wrap in plastic and freeze.
The Crock Pot is Your Ally Against Busy Mornings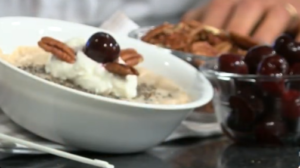 Take just a few moments to put ingredients into a crock pot or Instant Pot at bedtime. Breakfast will be ready when you are. Combining steel cut oats with Greek yogurt makes a creamy, high protein breakfast. Top it with antioxidant cherries and zinc-filled pecans for even better nutrition. Last of all, add crunchy chia seeds for an Omega 3 boost.
1 c. steel-cut oats
1 1/2 tsp. salt
4 cups bone broth (for added protein)
1 c. Greek yogurt (I like FAGE Total 5%  to balance blood sugars)
Frozen cherries
Pecans
Chia seeds
cinnamon and nutmeg, optional
Spray your crock or Instant Pot liner with non-stick cooking spray. Put the oats, salt and broth into the crock or liner. For the crock pot, set temperature to low. If you are using an Instant Pot, employ delay feature to start cooking 20 minutes before you want breakfast ready. Set cook time to 10 minutes. Let cool naturally for 10 minutes before releasing the pressure.
Just before serving, stir in yogurt and scoop into 4 bowls. Finally, top with additional ingredients.
Microwave a Grab-and-Go Sandwich
You can poach an egg in just 60 seconds using your microwave! Fill a ramekin with 1/4 cup water and break an egg into it. Before you cook it, puncture the yolk and cover with plastic wrap. Check after 30 seconds of cooking and microwave another 20 seconds if needed. Then, toss it onto a tostada, slip it into an English muffin, or stuff it into a pita. Besides egg and grain, you can add cheese, meat, spinach, sprouts, tomato, or avocado to balance your meal. For example,
Southwestern Tostada: Add cotija, refried beans, and pico de gallo
Club English Muffin: Include ham, swiss, turkey and spinach
All-Star Pita: Load it up with sprouts, avocado and bacon
Quickly Blend Your Nutrition
Do you love a speedy smoothie for busy mornings? Then whirl antioxidant blueberries with probiotic kefir for a superfood breakfast. Top with hemp hearts for essential fatty acids.
1 1/2 c. plain, unsweetened kefir
1/2 c. coconut water (for electrolytes)
12 oz. frozen blueberries
1 avocado (for added creaminess and blood sugar balance)
2 scoops protein powder
juice of 1 lime
1 Tb. honey
hemp hearts
Blend all but the hemp hearts. Divide between 2 tall glasses. Top with hemp hearts.
Deep Nutrition is Part of Functional Medicine
Preventing and reversing chronic disease means addressing the roots of inflammation. Minimizing the stress of your busy mornings and eating nutrient-dense anti-inflammatory food are impactful choices to help you be well.  Learn more about your power to change inflammation in my 4-week Functional Nutrition Course.