Cooling Foods Beat the Heat
Cooling foods beat the heat by not requiring the oven for preparation. But they also keep the fire of inflammation down in your body.  No one wants to be hot from the inside out when the sun is blazing outside.
To keep your body cool, stay away from deep-fried food and entrees weighted with excessive meat. Focus on lighter seafood, green vegetables, and summer herbs, such as cilantro.
Next, steer away from heavier, starchy food, such as pasta and potatoes.  Instead, select juicy summer-harvested produce. Fruits come to mind, but even zucchini is a cooling food.
Finally, don't indulge in inflammation-causing cookies, cakes, and pastries. Fennel, with its licorice-like flavor, can be paired with sweet pears for a light dessert in scorching summer heat.
If you have a chronic inflammatory condition, such as autoimmunity, pre-diabetes or heart disease, learn more about beating the heat with diet and lifestyle.
Chill Crab Cups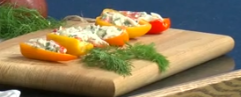 Create a refreshing entree with a combo of cooling foods that includes crab, cucumber, dill, and chives.
16 oz. crab meat
2 Tb. parsley, minced
1/4 lb. snow peas
2 stalks celery, diced
1 cucumber, diced
2 Tb. lemon juice plus zest
1/2 cup sour cream
2 Tb. fresh dill, minced
2 Tb. chives
Toss ingredients together and serve in lettuce cups, in hollowed tomatoes, or in halved bell peppers.
Fruit Rainbowl with Lime-Mint Dressing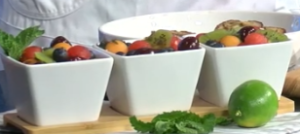 Drizzle anti-inflammatory fruits with revitalizing mint to give you relief from the heat.
1 cup each: cantaloupe cubes, watermelon balls, cherries, blueberries, and kiwi slices.
Juice of 2 limes
2 Tb. Honey
3 sprigs of mint leaf
Combine fruits in a large serving bowl. Tear mint leaves and whisk together with lime juice and honey. Pour over fruit and toss.
Caramelized Pears & Fennel
In less than ten minutes, you can enjoy a unique, refreshing dessert that doesn't heat up your body or your kitchen. Now that's cooling food!
3 pears, cut into wedges
1 fennel bulb, sliced
1/4 c. butter
1 vanilla bean pod
1/4 c. honey
2 tsp. fennel seeds
1/4 c. cream
Fry pears and fennel bulb in butter over medium high heat until pears are golden. Reduce heat. Remove pears and fennel to a serving plate. Slit vanilla bean pod open and scoop seeds into the skillet with the butter. Add honey and fennel seeds. Simmer 2-3 minutes, until  sauce is thickened. Drizzle pears with syrup and pour cream over the top.