5 Nutrient-Rich Breakfasts
One of the most important steps you can take to balance your blood sugars is to eat a nutrient-rich breakfast. Instead of dashing out the door with a granola bar, or slamming down a bowl of cold cereal, try these family favorites that comfort and nourish simultaneously.
For the Oatmeal Lover: Nutrient-Rich Black Rice Pudding
For being nutrient-rich, the darkest rice wins the prize. In this soothing and creamy pudding, rice is cooked in coconut milk to increase its healthy fat content, then served with vitamin-packed berries.
1 cup wild or black rice
2 cups water (or sub bone broth for gut-healing protein)
1 can full-fat coconut milk
3 scoops protein powder (can be reduced if using bone broth)
1/3 c. pure maple syrup
Berries and cream for garnish
The night before, simmer rice and water in a rice cooker or covered saucepan on medium heat until water is absorbed, 30-40 minutes. The following morning, add the remaining ingredients and cook until rice begins to break down and the mixture thickens. Garnish and serve. Makes 6 cups.
For the Pancake Lover: Nutrient-Rich Okonomiyaki

These Japanese pancakes are a delicious way to eat more nutrient-rich vegetables. Basically, you make a pancake batter, add shredded vegetables, fry them, and top them with sriracha mayonnaise, sesame seeds, and green onions.
2 large eggs
1/4 c. water
1 Tb. soy sauce or coconut aminos
1 1/2 Tb. fish sauce
2 Tb. sesame oil
1 c. whole wheat or gluten-free flour
1/2 head cabbage, shredded (about 4 cups)
1 carrot, grated
1 bunch green onions, thinly sliced
2 Tb. coconut oil
Heat oil in a heavy skillet over medium heat. While it is warming, whisk together the eggs, water, soy sauce, and sesame oil. Next, stir in flour until a thick batter forms. Then add cabbage, carrots, and half of green onions. Lastly, stir until vegetables are evenly coated with batter. Now, pour 3/4 cup batter at a time into the skillet, smoothing with the back of a spoon into a circle about 1/2 inch thick. Cook until golden brown on the bottom (3-4 minutes, flip and repeat. Serve topped with remaining green onions, sesame seeds, and sriracha mayonnaise.
For The Meat Lover: Nutrient-Rich Vegetable & Sausage Skillet
Pure comfort food – that's what I call yams and apples with warm spices, layered with grilled sausages. No one will even think twice about the nutrient-rich greens tossed in. If you make it the night before, and pop it in the oven to heat through when you wake up, it will be ready by the time you are.
2 sweet potatoes (about 2 pounds), baked
1 package Aidells Chicken & Apple Sausage
3 apples
1/4 c. butter
1/2 tsp. each cinnamon and nutmeg
1/4 tsp. each ginger and coriander
2 Tb. pure maple syrup
Salt to taste
2-3 c. spinach or kale, cut into fine strips
First, peel and cube sweet potatoes and set aside. Second, slice sausage and cook according to package directions. Third, dice apples and saute in butter with maple syrup and spices. The last minute of cooking, toss the cut greens in with the apples. Finally, combine all ingredients in a covered casserole dish. If desired, refrigerate for use at a later time. An hour before serving, preheat oven to 350 degrees. Bake casserole for 45 minutes, or until heated through.
For The Smoothie Lover: Nutrient-Rich Tropical Smoothie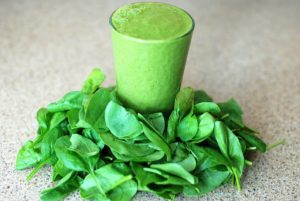 This pineapple-coconut smoothie supports your blood sugars with protein and natural fat. Additionally, it contains nutrient-rich leafy greens, essential omega 3 fatty acids, and a bitter herb (ginger) to enhance digestion.
Greena-Colada
1/3 c. frozen pineapple juice concentrate
2/3 c. ice and water
1 c. coconut milk, chilled
2 c. spinach (I freeze mine ahead of time)
1 tsp. grated or minced fresh ginger root
2 scoops protein powder
2 capsules Omega 3 fish oil
Before blending, slit open the capsules of fish oil and squirt the contents into the blender. Discard the empty capsules. Then add the remaining ingredients. Blend until smooth and frothy. Serve immediately. Serves two.
For the Yogurt Lover: Nutrient-Rich Breakfast Bowl
Chock-full of protein-packed yogurt, beneficial seeds, and antioxidant berries, this powerful nutrient-rich combo will keep you fueled for hours.
1 c. fresh or frozen berry blend
2 Tb. chopped raw nuts or seeds
Just layer and serve!
If you like these recipes, check out our cookbook!