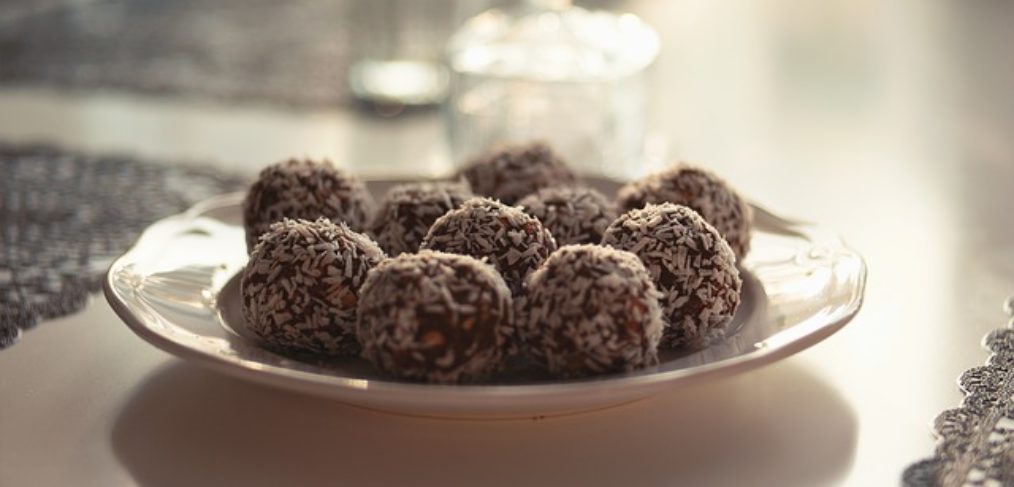 Superfood Snack for the New Year
Here's a treat that will treat you! With 3 superfoods to supercharge your energy and boost your immune system, these power balls have enough protein and healthy fat to keep your blood sugars from surging.
Goji berries are purported to improve immunity and fight cancer, help stabilize blood sugars, detoxify the liver, boost your mood and increase fertility. But that's not all. They are loaded with trace minerals.
Hemp hearts have a complete profile of essential amino acids (think protein) and have a perfect ratio of Omega 3 fatty acids to Omega 6 fatty acids.
Cacao powder is not only a mighty anti-oxidant, it is also high in iron and magnesium.
Keep a batch of these Hemp-Cacao Bombs in the freezer for those blood sugar emergencies when you need a boost now.
Ingredients
1/4 c. dried goji berries, processed to a gritty meal
1/2 c. chopped nuts
1/4 c. hemp hearts
1/2 c. chopped pitted dates
1/4 tsp. sea salt
1 tsp. vanilla
2 Tb. 100% cacao powder
1/8 c. unsweetened coconut flakes + 1/8 c. hemp hearts
Instructions
In a food processor, process the berry meal, nuts, 1/4 c. hemp hearts, dates, salt, vanilla and cacao until the mass becomes uniform, sticky, and forms a lump.
Roll into 1″ balls and roll in the mixed coconut flakes and hemp hearts. Keep refrigerated or frozen.