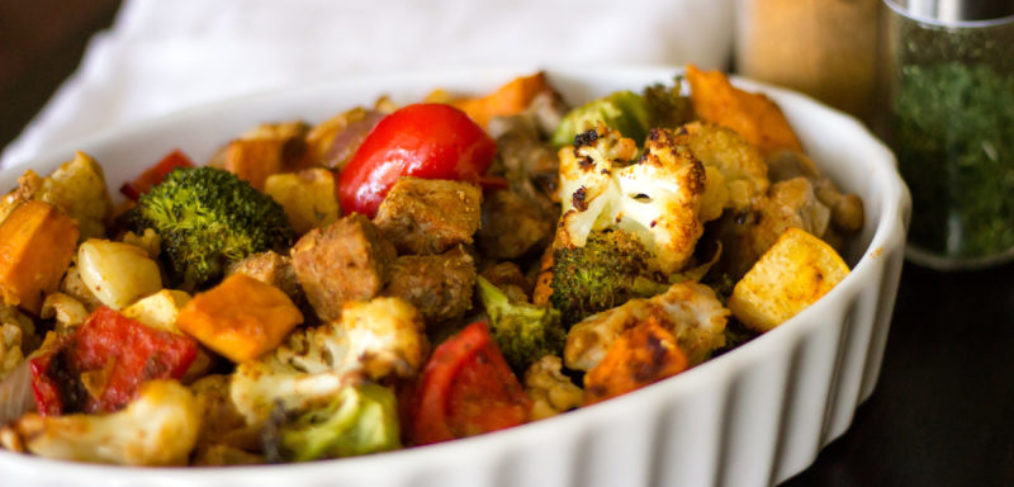 Fall Fare: Oven Roasted Dinners
Comforting, quick, and complete, this one-pan meal allows you to help the kids with homework or run a batch of laundry while its enticing aromas fill the kitchen. You'll find this hearty meal warm and satisfying on crisp nights. With hardly any planning, the whole family gets balanced nutrition. Mix and match ingredients to adapt to your budget and availability.
Ingredients
1 pound pork, beef, poultry, fish, or vegan alternative (such as tempeh)
1/4 cup unrefined coconut oil, ghee, tallow, pastured lard, or virgin red palm oil
1 onion, chopped
Several cloves garlic, minced
2 cups chopped root vegetables: carrots, potatoes, rutabaga, beets, turnips, parsnips, etc.
4 cups non-starchy cut vegetables: green beans, broccoli, cauliflower, Brussels sprouts, mushrooms, bell pepper, celery, etc.
1 teaspoon each: paprika, chili powder, thyme, oregano
salt and pepper to taste
2 Tablespoons vinegar, any flavor
Instructions
Cube the meat and toss with cooking fat and cut vegetables in a roaster pan. Season with herbs, spices, salt and peper. Roast in a pre-heated 450 degree oven for 20-25 minutes, stirring halfway through.  When meat is cooked and vegetables are tender, remove from oven and sprinkle with vinegar. Serves 4 generously.
Like this recipe? Find more in our Balanced Bowl Cookbook