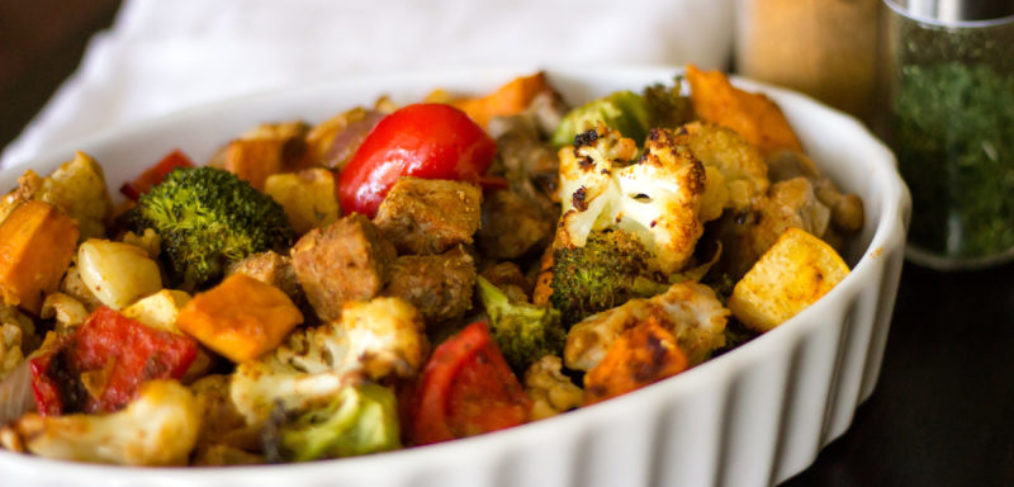 Healthy Isn't Hard: Sheet Pan Meal
With a chill in the air, I'm eager for an oven-roasted meal full of fall flavors! But just because I'm eating whole foods doesn't mean cooking a sheet pan meal needs to be complicated. When my husband wants take-out, I tell him I can have the meal ready before he can drive to the take-out counter and get home again. Really, a sheet pan meal only needs 20-25 minutes to cook – no tending needed! Throw it in the oven and read a book while it makes its magic of savory deliciousness!
Advantages of a Sheet Pan Meal over Fast Food
Aids detoxification with its inclusion of onions, garlic, or other alliums.
Anti-inflammatory! Find me one fast food meal that isn't inflammatory!
Provides antioxidants to protect your cells against damage that leads to disease.
Can be adapted to any budget, any level of pickiness, any dietary restraints.
Uses good fats that are necessary to your health and avoids bad fats that contribute to inflammation.
Contains more vegetables than the typical take-out meal.
Doesn't contribute to blood sugar imbalance.
Aborts cravings because it is so filling, mouthwatering, and nutrient-dense!
Saves well, so you can make a double or triple batch and not have to cook again for a couple of days.
So, let's get started!
Pick Your Protein
What's your preference: land or sea? A sheet pan meal needn't be limited to beef or chicken. Shrimp, crab, scallops, fish fillets, and even mussels work wonderfully in oven-roasted fare. So do pork, venison, and lamb! Vegans can use products such as tempeh to create an appetizing dish. How much you use is up to you. I recommend 3-6 ounces per person, cut into bite-size pieces.
Choose Some Color
Here's where it gets fun! Think of the rainbow. Mix and match colors and flavors to suit your personal preferences. Add as many as you like, but make sure you have at least 1/2 cup of cubed or julienned produce per person. Include firm fruits to provide sweetness if you want. The options you select for your individualized sheet pan meal may lend themselves to a particular ethnic flavor, so let your creativity reign! (See image at the end of this post.)
White: cauliflower, jicama, leeks, fennel bulb, parsnips, rutabaga, turnips, mushrooms, daikon radish, kohlrabi, and potatoes.
Yellow/Orange: summer squash, winter squash including pumpkin, yellow and orange bell peppers, pineapple, yellow beets, sweet potatoes/yams, carrots, and corn
Red: tomatoes, beets, red bell peppers, chili peppers, radishes, cranberries, red pear, rhubarb, red pear
Purple: eggplant, purple endive, purple cabbage, purple carrots, purple potatoes, dried plums, black currants, figs, or even elderberries
Green: beans, peas, broccoli, zucchini, Brussels sprouts, cabbage, asparagus, artichoke hearts, celery, endive, celery, green bell pepper, jalapeno, green chilies, serrano pepper
Grab Some Leafy Greens
In traditional cultures, a meal is not complete without some dark green leaves. Think beyond spinach here! Some options are mustard or beet greens, chard, kale, collards, arugula, bok choy, rapini, and watercress. Be generous because they are one of the most concentrated sources of nutrients on the planet. They will cook down substantially, so aim for at least 1 cup torn leaves per person. Since these do not require a long cook time, you can just toss them onto your sheet pan meal the last 3-5 minutes of cooking.
Remember The Sulphurs
No sheet pan meal – or other meal, for that matter – is truly balanced in flavor and composition without sulphurs. What are these? Primarily, they are the foods in the onion family, including leeks, garlic, chives, shallots, and scallions. But that's not all. Mushrooms are sulphurs, too. So are the cruciferous vegetables.  If you haven't already added a cruciferous vegetable as one of your colors, here's your chance to include some of the healthiest plant foods of all time. One onion and 2-3 cloves garlic are usually sufficient quantities for a single recipe of this oven-roasted entree.
Dress With a Temperature-Safe Oil
Polyunsaturated liquid oils, such as canola and safflower, are unstable and degrade at high temperatures. So stick with monounsaturated or saturated fats, like avocado oil, coconut oil, pastured tallow, or ghee (clarified butter). If your oil is solid, warm it enough to melt it, then toss with all your other ingredients in your sheet pan meal. Use about 1 tablespoon for every 2-3 cups of food on your tray.
Season With Herbs and Spices
Flavor your dish to suit your palate. Fresh thyme, oregano, basil, parsley, tarragon, and sage are winners. You may also like chili powder, cumin, coriander, turmeric, bay leaf, paprika, or cayenne. Just sprinkle your favorite flavors over you meal until the vegetables are very lightly dusted. Don't forget salt and pepper. Now slide the whole tray into a preheated 450 degree oven and bake until meat is cooked through and vegetables are fork-tender (20-30 minutes). I usually turn the food after about 15 minutes to insure even cooking.
The Finishing Touch
When the sheet pan meal comes out of the oven, I like to give it just a splash of vinegar to add depth of flavor. My favorite is balsamic vinegar, but red wine vinegar is good, too! Of course, rice vinegar would be the perfect choice for an Asian meal.
Below are some ideas to get you started!