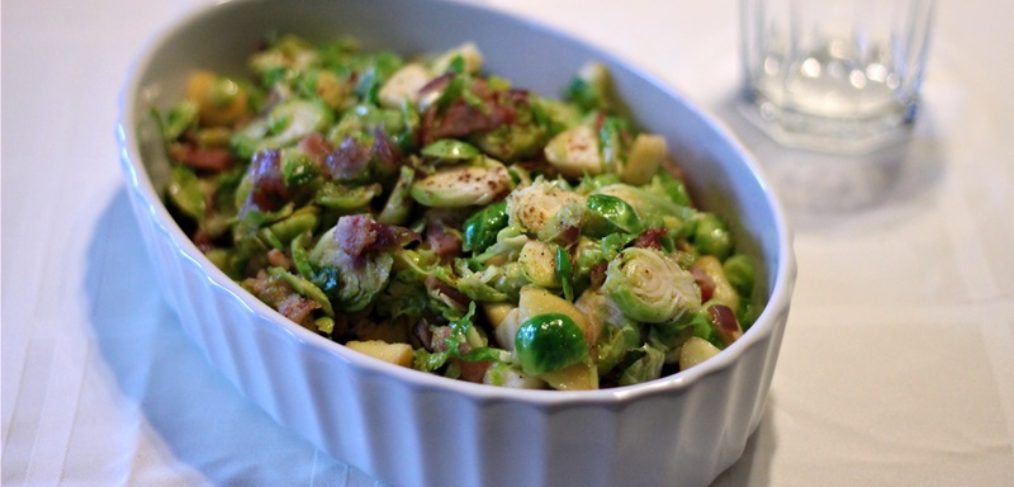 My Top Ten Vegetable Side Dishes
Sweet Brussels Sprouts: Cut off stem ends and slice into "coins." Sautee in coconut oil with apple slices just until bright green and tender. Add a drizzle of maple syrup, a pat of butter, a dash of salt and a sprinkle of nutmeg. Optional: Top with dried cranberries.
Roasted Roots: Cube a variety of root vegetables: parsnip, turnip, rutabaga, sweet potato/yam, beets, carrots. Toss with olive oil, sprinkle with thyme, marjoram, oregano, and rosemary. Bake at 450 degrees until tender, 20-30 minutes, stirring partway through. Just before serving, add a splash of balsamic vinegar and salt to taste.
Orange Broccoli: Steam broccoli. Meanwhile, mix equal parts honey, butter, and orange juice concentrate. Pour over cooked broccoli. Salt lightly.
Herbed Squash: In a baking dish, layer thin slices of peeled winter squash with onion and little dollops of butter. Sprinkle each layer with a mixture of salt, pepper, basil, oregano, thyme, sage, rosemary, marjoram and garlic. Top with bread crumbs and bake, covered, for 40 minutes at 350 degrees.
Italian Zucchini: Stir-fry zucchini slices in olive oil with minced garlic, oregano and basil until bright green and tender. Toss in some sun-dried tomatoes and serve.
Holiday Green Beans: While fresh green beans are simmering in water, caramelize some sliced onions by cooking them in butter over very low heat for 20-25 minutes, stirring occasionally. When beans are nearly soft, fry some bacon until crispy. Remove bacons strips, drain beans, then add beans to the bacon grease and fry on medium high heat until lightly browned. Combine beans, bacon, and onions to serve.
Thai Greens: Sautee minced garlic, grated fresh ginger root, and lemon grass slices in coconut oil until fragrant. Add baby greens and cook just until wilted. Pour some coconut milk over them along with a dash of fish sauce.
Fancy Cauliflower: Steam cauliflower florets until tender. While still hot, toss with butter, then sprinkle with parmesan cheese, paprika, salt and pepper to taste.
Gingered Carrots: Grate a pound of carrots. Add 1" of grated fresh ginger, 2 Tb. Whey (the clear liquid from yogurt with active cultures) and ½ tsp. salt. Press in a quart mason jar until liquid oozes up over the carrot. Screw lid on tightly and set on the counter for 2-3 days. Then refrigerate and use on salads.
Italian Eggplant: Prick eggplant with a fork and put in the oven at 350 for 30-40 minutes until soft. Cool and remove skin. Toss cumin seeds into heated coconut oil. As soon as seeds darken, add onion and sautee until onion becomes transparent. Stir in crushed tomatoes, minced garlic, grated fresh ginger, a bit of coriander powder and a pinch of turmeric powder. Simmer to marry flavors. Mash or cube eggplant and add to mixture. May be eaten with rice or naan.